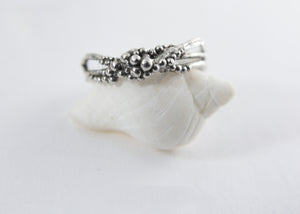 Silver Tree Ring
I can tell you this ring was created with TREES in mind but what manifested and became of it is also tentacle, water spirit, caviar and Atlantis.

This ring wraps around your finger like a tree and it is highlighted with small bubbling granulation to remind you of the elements water and earth.

A ring from the TREE collection.

This collection represents a deep admiration for the detail in nature, especially tree bark, branches, leaves and the water droplets that run along these textures. The aim is to be as authentic as possible. Straight to the source, woody branches are cast into metal, to create this natural ring.

This Tree ring  has an extra amount of granulation and is slight in size. A very delicate design indeed, it sparkles gently.

I have always noted how becoming this ring is, perhaps its femininity, or its sparkling grace, it has always been a natural hit.

All rings from the Tree collection are one of kind, unique unto themselves. But this particular TREE RING, can be exactly replicated, in every size, perhaps the most versatile ring from this collection.
 
A ring that wishes to emulate a tree.
A jewelry line that aims to capture the elegance of mother earth.

This ring comes in a sparkly sterling silver and is free of all heavy metals. 
For gold please see other post. :)

xo Alexandra