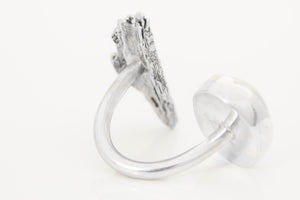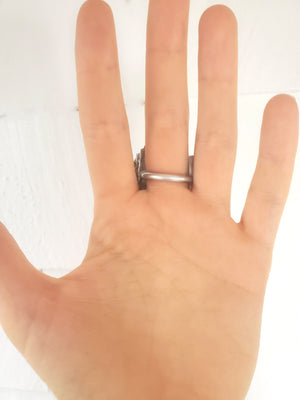 TreeBark and Moonstone Ring
A creamy iridescent oval moonstone set next to a piece of cedar bark cast into metal compliment one another in this one of a kind ring.
This is a big ring, a statement on your hand, a nod to the natural world.
The bark was found in a large cedar grove in pacific northwest. Perfect in every way, even the hole had already been eaten through. It was carefully transported in my treasure box for months and months, until i finally turned the wood to metal, enshrining forever this lovely natural totem. It represents everything i love, the organic textures and lines already found in nature. 
The moonstone has been in my collection for a long time, its origin is unknown. It glimmers blues and greens when facing the light just so, colour in constant motion to amuse you. The gemstone measures about 2cm x 1.5 cm. 
Best fit for size 8-9.