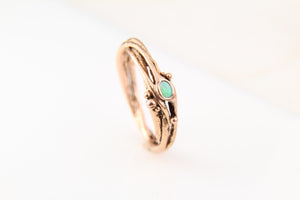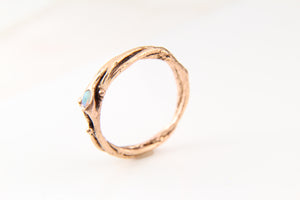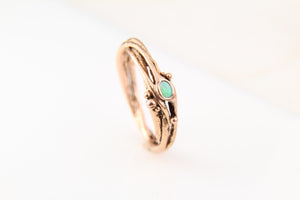 Opal Tree Ring
A fiery Australian Opal set in 14k rose gold tree branches. 
This is a small Opal with a lot of flash, nestled among tree branches and granulation a petite ring that is eye catching. 
A ring from the TREE COLLECTION. 

This collection represents a deep admiration for the detail inherent in nature, especially tree bark, branches, leaves and the water droplets that run along these textures. The aim is to be as authentic as possible. Straight to the source, woody branches are cast into metal, to create this natural ring.
Not too small and not too big. 
The Opal measures about 3-4mm wide. 
Please note, every Tree Ring follows its branches, and while I will do my very best to re-create the same ring, it will have inherent unique qualities, all to its own. The overall essence will be the same and i will stay true to the design pictured. 
This Tree Ring can be cast in yellow, rose or white 14k gold. Please select the right colour for you. 
((Pictured in Rose gold))
xo Alexandra